Join Us For These Upcoming Events!
*All in-person library sponsored programs have been cancelled or postponed during the current COVID-19 outbreak. Events will be updated as we have new information and all currently scheduled programs will take place virtually until further notice.
Register for these virtual programs today!
---
Meditative Yoga for a Calm Body & Steady Mind
Sunday evenings from March thru May at 7:30 pm
Join DPL to welcome back Jiong Jiong Hu, who will present meditative yoga sessions virtually from March thru May! The primary aim of these sessions are to learn to relax and enhance your experiential understanding and techniques for steadiness and contentment of body and mind in preparation for the week ahead. These programs are free, open to all and suitable for newcomers to yoga and mindful meditation.
You only need to register once to receive the link each week. Drop-in to any session or attend them all!
Complete Date Listing: March 7, 14, 21, 28; April 4, 11, 18, 25; May 2, 9, 16, 23
About the instructor: Jiong Jiong Hu is a long time Insight meditation practitioner and mentor, with more than 1000 hours of formal training. She is currently a Behavioral Health Meditation Instructor for Portsmouth Regional Hospital. Hu is a Certified Yoga Teacher, a Body and Mind Integrated Movements Instructor, a Level II Reiki practitioner and trained in Mindfulness-Based Cognitive Therapy. She has guided open meditation sessions Durham Public Library since 2018.
---
Ask Your Ambulance! with McGregor Memorial EMS
Thursday, once a month from March thru August at 6:00 pm
Join DPL each month via zoom to welcome staff from McGregor Memorial EMS Services for a short presentation and Q&A session on a variety of emergency related topics. See the full date listings and topics below. These programs are free and open to all; please register to receive the link. Register for any session or attend them all!
Thursday, March 25th - The first 5 minutes of an emergency

Thursday, April 8th

-

Calling 911

Thursday, May 6th - Stroke
Thursday, June 3rd - Heart Attack
Thursday, July 8th - CPR

Thursday, August 5th -

Bleeding control
---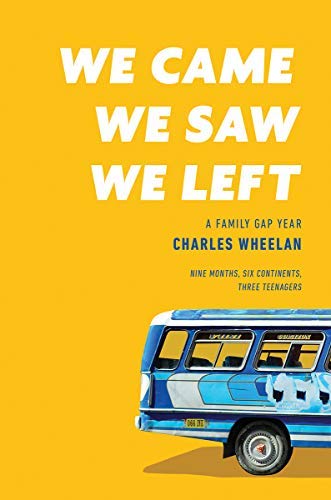 Book Talk with Charles Wheelan, Author of We Came, We Saw, We Left: A Family Gap Year
Tuesday, June 8th at 6:00 pm
Join DPL Adult Services on Tuesday, June 8th at 6:00 pm to welcome author Charles Wheelan via zoom to speak to us about his latest title, We Came, We Saw, We Left: A Family Gap Year. What would happen if you quit your life for a year? In a pre-COVID-19 world, the Wheelan family decided to find out; leaving behind work, school, and even the family dogs to travel the world on a modest budget. Equal parts "how-to" and "how-not-to"—and with an eye toward a world emerging from a pandemic—We Came, We Saw, We Left... is the insightful and often hilarious account of one family's gap-year experiment.
About the Author: Charles Wheelan is a senior lecturer and policy fellow at the Rockefeller Center at Dartmouth College. He joined the Dartmouth faculty fulltime in June of 2012. He has been selected as one of Dartmouth's ten best professors by three different graduating classes. He teaches courses on education policy, health care, tax policy, income inequality, and related topics. From 2004 to 2012, Wheelan was a senior lecturer in public policy at the Harris School of Public Policy at the University of Chicago. Prior to joining the faculty at the University of Chicago, Wheelan was Director of Policy and Communications for Chicago Metropolis 2020, a business-backed civic group promoting healthy regional growth in the Chicago area. From 1997 to 2002, Wheelan was the Midwest correspondent for The Economist. His story on America's burgeoning ex-convict population was the August 10, 2002, cover story. He has written freelance articles for the Chicago Tribune, the New York Times, the Wall Street Journal and other publications.
Wheelan's most recent nonfiction book, Naked Money: What It Is and Why It Matters, was published by W.W. Norton in April of 2016. He is also the author of The Centrist Manifesto and the founder and co-chair of Unite America, an organization dedicated to bridging the partisan divide and electing a more representative and functional government. In 2013, Wheelan published Naked Statistics: Stripping the Dread from the Data which reached the New York Times bestseller list for hardcover nonfiction. Wheelan's first book, Naked Economics: Undressing the Dismal Science, was published by W.W. Norton & Company in 2002 and is now published in 14 languages, including Arabic and Hebrew. Wheelan's first novel, The Rationing, was published by W.W. Norton in 2019; We Came, We Saw, We Left... is his second. Wheelan lives in Hanover, New Hampshire with his wife and three children.
This program is free, open to all, sponsored by the Durham Public Library and will take place via zoom. Please register below to receive the link.
---
Join us for the 2021 DPL Adult Summer Reading Program 6/28-7/30!
---
Illustrative Landscapes with Corinne
Roberts
Tuesday, June 29th at 6:00 pm
Join us for a fun and casual, online drawing class with artist and illustrator Corinne Robertsto kick off DPL's Adult Summer Reading week on zoom! Using basic shapes and simple line techniques, create landscapes from your imagination or illustrate from live/picture references. Attendees need simple paper, pencil and an eraser to follow along. No prior drawing experience is needed.
This program is sponsored by the Durham Public Library and is free and open to all but geared toward teens/adults. Registration is required below to receive the link.
About the presenter: Corinne Roberts is a professional illustrator working in comics, children's books and games (Bug Bites, Out and About, Unreal Estate). You can see more of her work and current projects through Instagram: corinneroberts123 or her website: corinneroberts.com.
---